Our values
Richter is a Hungarian-based and managed multinational organization with a regionally unique research base and capabilities, operating in the interest of employees, shareholders and the national economy. At Richter, we all believe in world-class teamwork to improve people's quality of life, build on the Company's strong traditional values, whilst our activities are permeated by our global ambitions. Our goal is to become an ever-better workplace that attracts talent and engages key people through high level ofperformance and the achievement of goals set by us.
0
employees
0
% ratio of women
0
average age of employees 
0
years of employment
0
% turnover
Training and development
The competencies and intellectual contribution of our staff are a prerequisite for a sound business strategy. To this end, the Company places great emphasis on the scientific and professional training and continuing education of its employees. In addition, all employees are required to participate in safety, quality assurance, environmental protection and pharmacovigilance training courses.
New employees are welcomed in the framework of an onboarding programme, with each new entrant being supported by a so-called Buddy in the first few weeks. In the first month after entry, each new colleague attends an onboarding course to help them engage in Richter's business and corporate culture thus facilitating integration.
In order to expand our colleagues' expertise, Richter supports the completion of both in-house training and academic certificates. We also provide many of our colleagues with the opportunity for development by supporting them to participate in domestic and foreign professional conferences and scientific congresses.
We offer a variety of training opportunities to our managers. Managers can choose the most appropriate form of training tailored to their individual development needs. In 2019, the Richter Leadership Model and a complex leadership development system were developed for both new and experienced leaders, according to the different stages of their leadership career.
Gedeon Richter Plc is the most attractive pharmaceutical employer in Hungary
according to PwC Hungary's survey amongst youth aged 16-28
This award is again a great recognition for us, as this is the third time that talented young people have voted Richter the most attractive pharmaceutical employer. We hope that we will have the opportunity to work with many of them to shape the future of our 120-year-old company together as we aim to improve the quality of life for millions of people with our innovative solutions. Katalin Erdei, Richter's Human Resources Director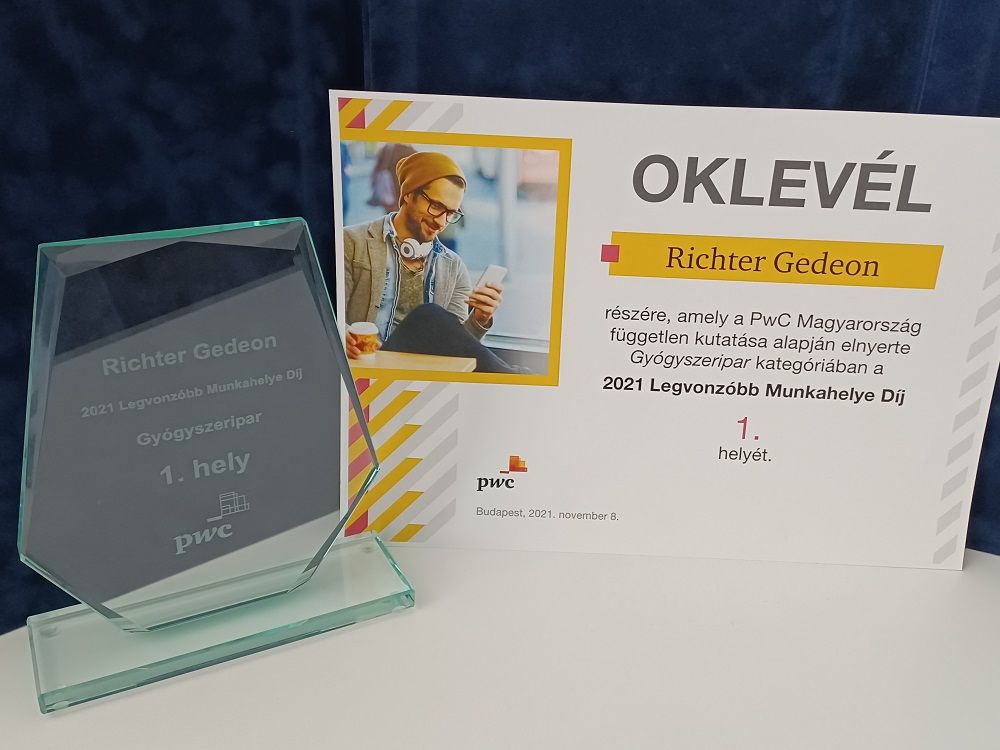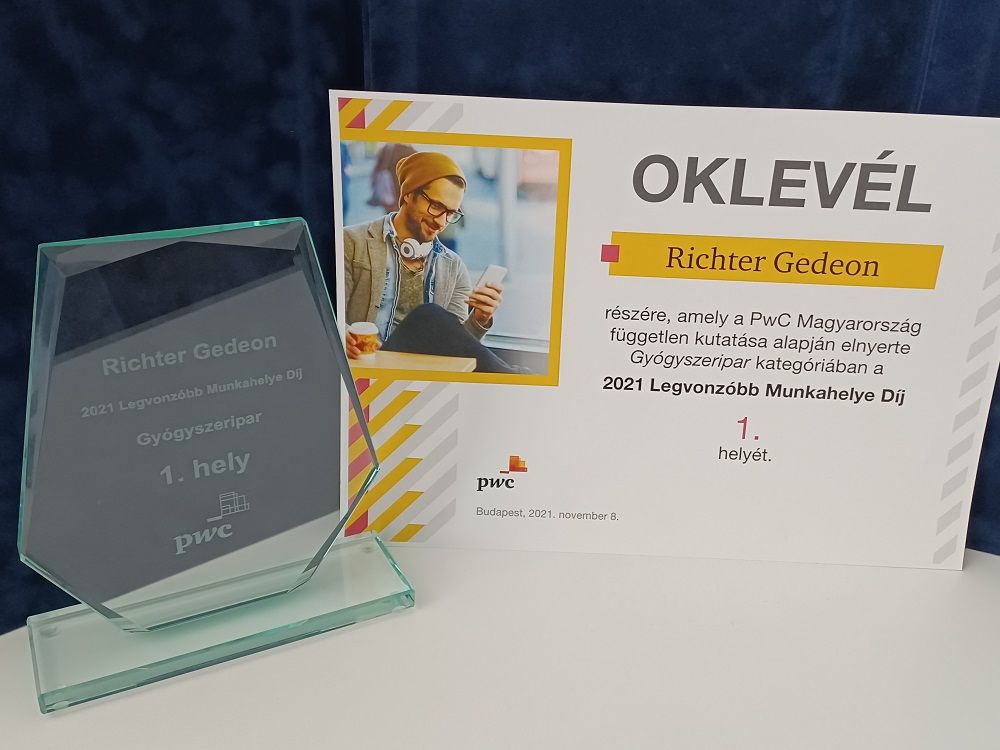 Benefits
Commitment to performance and performance orientation are also the cornerstones of the Company's remuneration principles and practices. Both basic wages and wage incentives, as well as stock bonuses and other forms of benefits and rewards, including education, training and retraining plans, help to achieve high levels of performance and business goals through retention of key people.
Our fringe benefits are very diverse beyond the cafeteria system as we offer:
pension fund contribution
Employee Stock Ownership Plan
health screening programme
health insurance
life and accident insurance
support school expenses for our employees' children
agreements with several banks to offer discounted fees on employee accounts
sports facilities
recreation at company-owned holiday sites
interest-free housing construction, home purchase and renovation loans
GYES (Child Care), GYED (Maternity Leave) benefita
Diversity and equal opportunities
Regardless of gender and age, we provide opportunities for advancement, professional development and leadership positions. Equally accessible training/development conditions are available to all levels of management. It is an advantage for every organisation if colleagues approach a particular task or project from different perspectives. Different views can give the Company a new perspective and opportunity, which canincrease its productivity and efficiency. In some areas, Richter deliberately integrates foreign labourforce in order to import international knowledge, in line with the professional needs of the given position. We support the reintegration of women after GYES (Child Care Benefit), many of whom are employed on a part-time basis. At the same time, we place emphasis on the employment of students and retirees.